As you all know, I have written over 150 posts featuring my experiences as a freelance artist and my analysis of the dance world. If you didn't see
my post from April 15th
, I recently launched my
Pas de Chat: Talking Dance
podcast on the Premiere Dance Network, which recently received some nice
press from Dance Magazine
. It has taken a lot of preparation to get this show ready and raring to go, so I reached out to some of my freelancing friends to offer a few additional perspectives on the work of freelance artists in the dance world.
Most of the material written on
Life of a Freelance Dancer
features the work of freelance dancers, hence the name. But there are many other types of freelancers involved in this beautiful world of dance. I recently reached out to a new friend of mine, Matthew Powell, whose dance credits include dancing with
Pacific Northwest Ballet
,
Kansas City Ballet
, and as
A-rab
in the international tour of
West Side Story
. Since retiring from dance, Matthew has taught everywhere from
Broadway Dance Center
to
Central Pennsylvania Youth Ballet
, worked as Ballet Master on the
Golden Globe
-nominated series
Flesh & Bone
and at
Slovak National Ballet
, and choreographed around the country. Continue reading below to hear what Matthew has to share about his work as a freelance instructor and ballet master. Enjoy!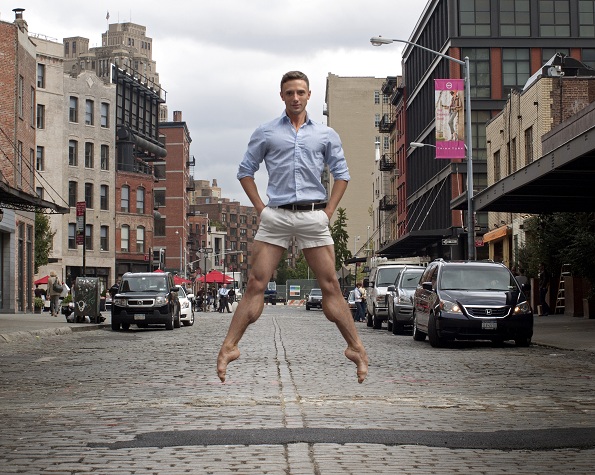 Matthew Powell (Photo: Brian Jamie)
Where do you currently work?
When I'm not freelancing, I am on faculty at Broadway Dance Center and
Ballet Tech
. Additionally, I am permanent guest faculty at Central Pennsylvania Youth Ballet (CPYB), which means I travel to teach for a few days each month and teach for their five-week summer course. I offer private coaching in New York City and substitute teach at
Juilliard
and
Peridance Capezio Center
.
Tell me about your transition to becoming a full-time freelance instructor/coach.

Honestly, I feel like one of the luckiest guys ever. After my performing career, I moved to NYC to finish my college degree at the
LEAP program
, a wonderful offering through Saint Mary's College, which allows dancers to get their degree while maintaining a flexible schedule. I knew I needed a job, so I started scouring the web for any opportunity I could find. I started teaching at 19, and thankfully already had a resume to work with. I got lucky very quickly.
Petrov Ballet
gave me a job and Broadway Dance Center gave me a class in a tiny studio on Sunday afternoons (which has now built up to five classes a week). What I will forever love about these two schools is that they took a chance on me based off my resume alone. I didn't know a soul in NYC, but they gave me a shot to prove myself.
Matthew teaching company class at Slovak National Ballet (Photo: Costin Radu)
How has your teaching evolved over the years? How would you describe your class?

When I first started teaching, my classes were given instead of taught. I would carbon-copy the exercises I'd get as a professional dancer and spew them out to students expecting them to understand. It wasn't because I didn't care. I simply didn't know any better. Now, I look at who is in the room, I look at what I've learned, and I look for ways to help. Teaching is never solely about the teacher. Teaching, for me, is a collaborative effort between yourself and the student. By being a supportive (rather than authoritative) voice, I think you can better open their minds to accept what it is you have to give.
How do you go about finding work?

The early years in NYC were all about hitting the pavement. Countless answers to Craigslist postings, doing Nutcracker gigs with an encore tap number at the end set to Mariah Carey's All I Want For Christmas Is You (yes, I've been there), and literally saying yes to anything that came along. I still say yes as much as I can, but now I get to do the jobs that fulfill my soul the most.
Do you have an agent or do you negotiate your own terms? Do you have any advice for others about setting up terms/negotiating?

I don't have an agent or manager, but it's something I've just started looking into for choreographic work. I am admittedly terrible at negotiating. It's either, "yes," or, sadly, "I can't afford it." I try to do a cost/benefit analysis when a gig comes my way. This might not be what you think, however. Cost/benefit has less to do with money and more to do with life. I am not rich in the monetary sense, but I value both the art of ballet and who I am as a person very much. This is a lesson I've learned along the way. If a potential gig comes along that I feel will not benefit me as an artist and human or if I feel it jeopardizes the art I love, I will say no.
Matthew teaching at the Rock School (Photo: The Rock School for Dance Education)
Have you ever felt that you were stretching yourself too thin as a freelancer? If so, how did you resolve that?

As a teacher, as a choreographer, and as a dancer, you love what you do. But you give...and you give...and you give. Last year I gave too much. My social life, my health, and my work were taking a hit as a result. It was a huge wake-up call for me, and I started making some changes.

While it's been difficult, I've had to learn to categorize what I do as a part of my life, but not my complete life. My art and my passion is also a job, and work cannot overtake the whole of your existence. I make sure nowadays to do something for myself. Less than half an hour ago, I unashamedly left the 7:30 showing of My Big Fat Greek Wedding 2. No ballet, no wondering where the next pay check was coming from, just some time for myself. Loving yourself comes first, and I think it's important for artists to recognize that, especially freelance artists.
What has been your most challenging freelance experience?
My Wednesday work days in 2011. Hands down! I'd teach two morning classes in New York City, take a train two hours north to Fairfield, Connecticut to teach from 4-8 PM, catch the 8:30 PM train back to Grand Central station, take a shuttle train across town to the
Port Authority Bus Terminal
, grab an 11pm
Greyhound bus
to Philadelphia, get to my Philly apartment around 2:00 am, then teach from 10 AM - 7 PM the next day at the
Rock School for Dance Education
. I love and miss teaching at the Rock. But after a year of that, I had to make a change. It was my own fault, not any of the schools where I taught. I tried to convince myself I was invincible, and it really took a toll on my physical and mental health.
Matthew giving notes to the cast of Starz show Flesh & Bone (Photo: Starz)
What has been your most interesting freelance experience?

Undoubtedly, ballet-mastering the pole dance sequences for the TV series, Flesh and Bone. That was a first! But man, pole dancing is hard! And incredibly good for your core strength. It's also a ton of fun, and doesn't need to be a sleazy affair. It's an amazing form of exercise, and there's definitely an art to it!
Tell me about your work as a guest Ballet Master.

The guest ballet master side of things came about via a glorious chain reaction of events. There is a wonderful ballet guru,
Jeff Edwards
, who took me under his wings when I first came to NYC. He recommended me for a teaching position at Cedar Lake Contemporary Ballet. Things went well there, so he put me forward to apply for a full-time Ballet Master position with
Royal New Zealand Ballet
.
Ethan Stiefel
was the Artistic Director at the time. I made it to the final round, which included going to New Zealand to interview and teach. I didn't get the job. I was pretty bummed, but went forward with life. A few months later, Ethan emailed me with an offer to guest ballet master for a few months in New Zealand. He also asked me to Ballet Master a new television show he was choreographing, which ended up being
Flesh and Bone
. It was a pinch me moment!
Shortly after
Flesh and Bone
wrapped, I headed off to New Zealand. While there, I met Daniel De Andrade, a Ballet Master with
Northern Ballet
. We hit it off and he invited me to Slovakia to work as Ballet Master for his first full-length commission.
What inspired you to produce your instructional ballet video, Find Your Fifth?

While working with Royal New Zealand Ballet, I taught some outreach classes to students in the various cities we toured. After a class in Auckland, a little boy came up to me and thanked me for "bringing a slice of New York to New Zealand." On the plane ride home, I penned the idea of an instructional video shot like a Hollywood film; complete with bustling scenes of New York City and a group chat session at the end with our dancers. My hope was to give folks an idea of what it's like to live and dance in "The Big Apple." Hence, Find Your Fifth was born! We're in six countries now and I couldn't be happier. (see below for information on Find Your Fifth)
The Cast of Find Your Fifth (Photo: Shane Ohmer)
Do you see yourself freelancing forever?

Absolutely not. I'm trying to scale back these days for the sake of work/life balance. I love my job and I love new experiences, but it's very easy for work to become all-encompassing. I'm a domestic-type by nature and I want to find a home. Also, I'm ready to put the knowledge I've gained on the road to use. With that said, I want to make sure that home I find is a right fit, so I'm taking my time. Anyone want to hire me?!
What work do you have coming up?

More teaching, and more creating! I have a ballet being performed at a benefit for the United Nations in June. Additionally, I'm traveling to Anchorage, Miami, Zurich, and Las Vegas to teach. I'll also be teaching at CPYB's summer course.
Any advice you would offer for artists considering a career as a freelance instructor/coach?

I think it's all summed up with the answers above. But in a few words; don't rush, enjoy the process, and be good to yourself. Things will happen when the time is right.
Matthew Powell (Photo: Brian Jamie)
For More Information on Matthew Powell, His Work, and His Find Your Fifth DVD: